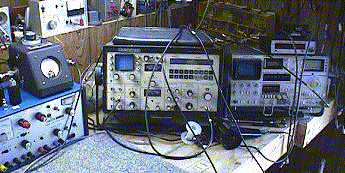 The Engineering Department @ WB4IUY/AC4QD
I've been building, repairing, restoring, and/or collecting amateur radio equipment since age 14. In the relm of technical interests, radio has always been my first "love". In 1974, with the help of my dad, I began an adventure that is still going strong and is of more interest than ever to me. The following are pictures of my workbenches and various projects I currently have under way.

My workbench is taylored more towards analog/RF repair, with the ability to generate in range of 1 ghz synthesized or 40 ghz analog multiplied. RF Measurements and analysis to 40 ghz are possible, counting to > 1 ghz, DC or AC to approx 50 KV.

Like most facilities, the Engineering Staff at WB4IUY is constantly within a state of "flux" and consequently may routinely change in appearance and/or opinion. Your milage may vary.